Goodbye Frank, hello Deborah TPG, Inc.
Capitola Historical Museum welcomes new curator, says goodbye to Perry
By Niels Kisling
After eight years at the helm, Frank Perry retired on June 30 as museum curator for the Capitola Historical Museum.
"In total, my predecessor Carolyn Swift and I devoted 28 years of love and care to this little museum," Frank said. "We've done everything from accepting gifts of rare artifacts to washing windows. It was never "just a job", it was a passion. "
He added: "From day one the museum board, museum volunteers, municipal staff and the people of Capitola have been exceptionally welcoming. I can't think of a better way to end a 50 year career in museums. The position of curator gave me the opportunity to apply everything I had learned over the years about running a museum. I've had a lot of opportunities to build exhibits, give talks, produce videos, and do publications, all of which I love to do. Most importantly, I got to dig deeper into Capitola's wonderful story and share what I learned.
Your Capitola Museum is fortunate to have Deborah Osterberg as its new curator. She's returned to Capitola again, but when Deborah returns home, she returns home to Bonny Doon and the redwoods she adores.
His journey began at the elementary school of Capitola. She was first a Viking of Capitola, then graduated as a Knight from Soquel High School in 1979.
Deborah graduated in History and Geography from Chico State in 1984, then took graduate courses at UC Santa Barbara in Cultural Resource Management. Its extended service to National Park Service parks and monuments reads like several seasons of a reality travel show.
Deborah has worked at Yellowstone National Park, Sequoia-Kings Canyon National Parks, Minute Man National Historic Park, Eugene O'Neill National Historic Site, Fort Sumter National Monument, Charles Pinckney National Historic Site, Field Moore's Creek National Battlefield, Mount Rainier National Park and the San Francisco National Archives.
Needless to say, if you want to find, store, archive, or search for something, Deborah is your first choice.
Deborah put her career on hold to come home in 2014 to organize the succession of her late father after a life well lived. Last year, Deborah was evacuated for a month from her home in Bonny Doon due to the fire at the CZU complex. Residents who remained behind saved homes in its route by preparing with the necessary equipment to fight the fire on the ground.
Soon after, however, a fire crew showed up to put out the blaze that was growing at the treeline, a blaze the neighbors may not have been able to handle.
Deborah published a book while her career was on hold. The book, Historic Tales of Henry Cowell Redwoods State Park – Big Trees Grove, is a must read and proves that the redwood forest runs deep in his soul.
Deborah Osterberg is back at Capitola. She is excited to create future exhibitions at the Museum and rotating exhibitions at the new Capitola Library.
Once we get past Covid, Deborah hopes to develop costumed walking tours of the village. She is excited about the future of the Museum and very proud to be the one chosen to tell the story of her hometown.
Frank's transition to Deborah has been smooth so far.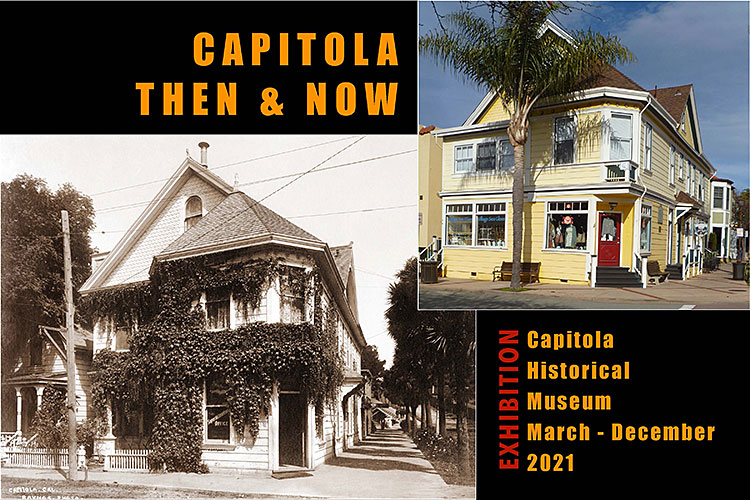 The current Museum exhibition "Capitola – Then & Now" was installed in the spring of 2020 but was only open to the public for a few weeks due to the pandemic closure. That is why it was decided to keep the exhibition going until 2021 so that everyone can benefit from Frank Perry's hard work on the latest exhibition he created for the Museum.
The Capitola Historical Museum with no entry at 410 Capitola Avenue is open Saturdays and Sundays from noon to 4 p.m.
Under Deborah's direction, we recently published our latest newsletter. Capitola Sunset Summer 2021 is available on the Museum's website: https://www.cityofcapitola.org/capitola-museum
Your Capitola Museum Board of Trustees is honored to serve Deborah Osterberg, and, at the same time, we are happy for Frank Perry to retire. It's a win / win for you and for our hometown museum.
www.cityofcapitola.org/capitola-museum
(Visited 3 times, 3 visits today)